Sandals Resorts Introduces "Platinum Protocols of Cleanliness" So You Can Enjoy Your Honeymoon or Destination Wedding Worry-Free
As brides, grooms, and couples look to the future of romance travel – especially destination weddings and honeymoons – cleanliness will be paramount in providing them with peace of mind as they plan their big day, luxury honeymoon, or any other romantic occasion. Sandals Resorts has introduced Sandals Platinum Protocols of Cleanliness in preparation to welcome back couples seeking an escape to the beautiful Caribbean.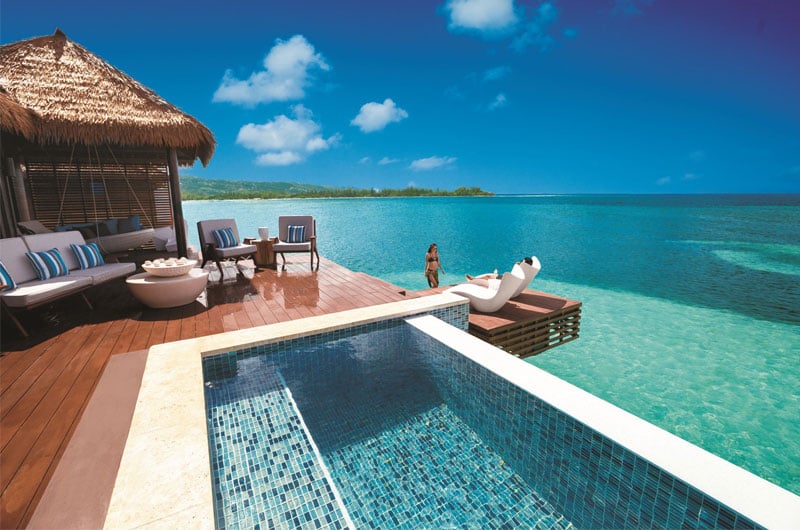 These protocols build on and enhance existing protocols – from Environmental Health and Safety Managers at each resort to a Triple-Check system – that were in place long before COVID-19. With these new and enhanced measures in place, couples can enjoy the same Luxury Included® vacation or destination wedding experience they'd expect from Sandals without giving up the intimate moments they've been dreaming about.
Here's how Sandals will help heat up your romance while keeping you safe and healthy at every touchpoint of your vacation, honeymoon or destination wedding.
Open Space and Open Air So You Can Open Your Heart. Sandals Resorts was built on the principle of creating a romantic environment – spanning large parcels of land with huge beaches – where couples can have their privacy. The resorts are designed to never feel full, even when running at full occupancy, providing a strong foundation for Sandals to layer on additional protocols that ensure couples are able to maintain a safe distance from one another whether they're seeking a private, open-air nook to tie the knot, some seclusion to celebrate being newlyweds or an open-air eatery to satisfy their taste buds.
Privacy is the New Luxury – And Your Dream Honeymoon Suite Awaits. Romance requires privacy, and Sandals has you covered. With the Caribbean's most innovative Love Nest® Butler Suites that include private infinity pools, Tranquility Soaking Tubs, in-room private dining, the services of a personal butler and more, couples will find an exclusive oasis where they can celebrate their relationship milestone with no worries. Couples can also check-in online, skip the front desk and go directly to their room, where a refreshing welcome cocktail, personal anti-bacterial hand towel, and individual in-room hand sanitizer will await them as they settle into their intimate escape. New certified Sandals Sanitized Guest Rooms introduce even more robust housekeeping measures, from the use of additional hospital-grade disinfectants to electrical aerosol sprayers and UV-LED lighting equipment. Sandals also has secluded spots and experiences for couples all over their resorts, from over-the-water hammocks made for two, private off-shore islands and private candlelight dinners for two – perfect for couples who've just said "I do."
Expect 5-Star Service Suited For Love. Rooted in a ratio of three team members to every occupied room, Sandals already invests in heavily training over 14,000+ team members to ensure couples receive nothing less than a 5-Star experience. All team members will undergo specialized training on preventative protocols and added sanitation practices – from knowing where the nearest hand sanitizer stations are located, to required temperature checks prior to the start of each shift. Couples who prefer one point of contact can take advantage of personal butlers trained by the Guild of Professional English Butlers, who go above and beyond to help you reserve private cabanas, create personalized in-room moments, and more – the ultimate luxury for newlyweds and honeymooners.
Cleanliness Without Compromise So Couples Can Relax. Sandals has completed an assessment of all points of guest contact, resulting in the integration of advanced hygiene practices across eighteen key touchpoints – starting from the moment couples arrive at airport lounges through the entirety of the resort experience. Bars, for example, will be fully operational, including the iconic swim-up pool bars Sandals first brought to the Caribbean. Safe physical distancing will be made possible with bar stools placed 6 feet apart from other couples. Your favorite elements of a Sandals vacation or destination wedding experience will remain clean without compromise!
sandals.com